"One of the designers at our design firm had a request from the principal and one of his customers to order a Persisk Rug from a large warehouse style store. Unfortunately they did not read the online description that said the rug was only available in the Winnipeg OR that each rug was handmade so no two looked alike OR that it was only available from the Winnipeg store. The designer called the customer service department and found out that they do not ship from store to store, we cannot purchase the rug online, nor would they allow up to purchase it with a credit card and have a shipping company pick it up for delivery. The designer started calling people in Winnipeg to see if there was a way to have them purchase and prepare the rug for shipping. This is when Sheila from mylittlesecret.ca came to our rescue!
Sheila returned our initial phone call in about an hour, went to the store and sent me pictures of the available rugs so I knew which options I had to choose from. I let her know which one we needed and that's when we found out they would not sell it to Sheila because there was no price tag attached. Sheila talked to the store personnel about the problem and I spoke with their customer service department. We were told Sheila would receive a phone call when the rug had been properly priced. As Sheila and I were constantly communicating with each other we were able to coordinate between my calling customer service and her talking to the store staff to have the pricing done in a timely manner so she was able to pick up the rug and return it to her home to prepare it for shipping to my customer.
Not only did Sheila make the horrible experience of dealing with this particular store easy, the rates for her time were very reasonable considering the problems that arose. She was excellent at keeping the lines of communications open by either calling or texting me with information updates, having 'common sense' AND knowing how to use it!!!
It was a pleasure working with Sheila and I would highly recommend her to anyone!"
– M. Bennett, Executive Office Manager, CKDESIGN ASSOCIATESiNC.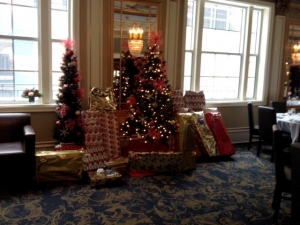 "I wanted to pass on a sincere 'THANK YOU' to Sheila, of My Little Secret for her superb service in December 2013.
Our company held its first 'family' Christmas celebration, and we had 18 children to buy gifts for.
We decided to hire My Little Secret for the job! Sheila's gift choices were diverse, thoughtful and relevant to the children's age, gender and interests. Wrapped and labeled gifts were delivered promptly and with a big smile.
What a joy it was, watching the children open their presents, and being just as surprised as they were! Well done Sheila!"
– A. Gula, Bookkeeper, Allan's Glass & Aluminum Products Inc.